April 5th 2014 - Zen Judo 40th Anniversary Course
Zen Judo Bognor hosted the celebration for the Zen Judo Family 40th Anniversary, which coincided with their club 10th anniversary. A good number of kenshindoryu students made the journey to Bognor for an excellent day of training, including a Wado session from EWF member Sensei Jessica Harrison, Judo from ZJF's Sensei John Robertson, Jujitsu from BKJJF Sensei Karl Harley, Shinkendo from KDR Chief Instructor Jim Dart and Aikido from Sensei Mike Gilbert-Hill. Training was followed by pizza and Sake in the dojo which brought a truly memorable day to an end.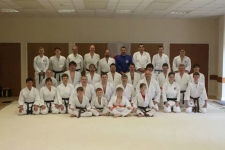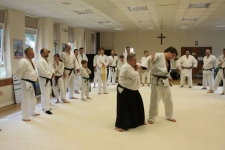 Grading December 2013 shared with Sei Jou Kai Jujitsu
The end of year grading saw 5 Kenshindoryu Jujitsuka advance, with 1st kyu, 3rd kyu, 4th kyu, 5th Kyu and 6th kyu grades being examined. Adding additional interest and excitement to the day was the sharing of the event with newly formed club, Sei Jou Kai Jujitsu who also had a range of grades up for promotion, including one member being promoted to Shodan. A good day of solid skills and commitment from all concerned!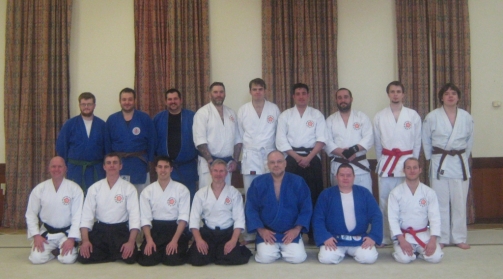 IGAS Course Hosted by Zen Judo Bognor 14th Sept 13
Saturday 14th September saw an early start for the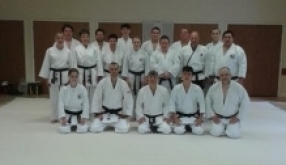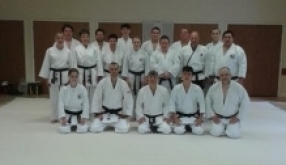 5 KDR members who made the trip to Bognor Zen
Judo Club for the final IGAS course of the year.
Sensei John Robertson's renowned hospitality was
much in evidence as we were treated to sessions in Zen Judo, Wadoryu Karate, Shinkendo and
Groundwork with IGAS members and guests from the local karate club, at which John trains.
Another excellent day's training and company.
June 22/23 2013 Kenshindoryu 25th Anniversary Summer Course
The Honbu Dojo at Roade once again played host to members and guests for the annual weekend summer course, this year celebrating the Kenshindoryu Silver Jubilee.
Guest instructors Shihan Yoshi Shinohara 8th Dan, Shihan Neil Malpas 5th Dan, Sensei Mike Healey 5th Dan and UK ISK Shibucho Byron Shepherd joined Kenshindoryu stalwart Senseis Jim Dart, Dan Jones, Stuart Edwards, James Dart and Roger Knowles in providing a weekend of good humoured, top quality martial arts tuition and practice in the friendly and informative manner that the association has become known for.
To commemorate the 25 years, this year's course focussed on the association's past, present and future - instructors, members and connections - with sessions from KDR Founder Jim Dart, Sensei Mike Healey who was one of Jim's first Judo instructors, Shinohara Sensei, who has been a constant friend to the association for over 20 years, Long-time members Dan Jones, James Dart and Stuart Edwards, current connections Sensei Byron Shepherd and Shihan Neil Malpas, and newer members Senseis Roger Knowles and Mike Gilbert-Hill - not forgetting future senseis, Guy Miller and everyone's favourite 'Uke', Mike Reilly.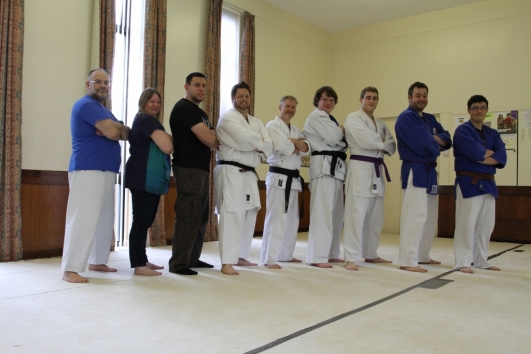 |---------------------PAST---------------------------|----------PRESENT--------|----------------------FUTURE--------------|
Left to Right Jim Dart Gail Dart Stuart Edwards Dan Jones Roger Knowles James Dart Liam Whitby Guy Miller Mike Reilly
5th Dan 2nd Dan 3rd Dan 2nd Dan 2nd Dan KDR 1st Dan
(5th Dan Godo)
Saturday 22nd Sunday 23rd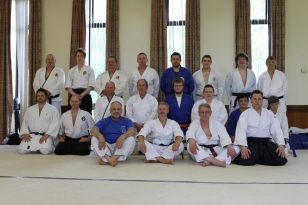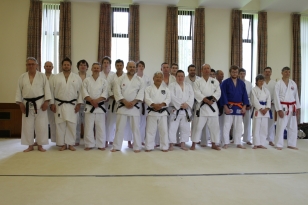 SEE THE REST OF THE PICS HERE
June 8th 2013 - Shared Training Day @ Trowbridge Zen Judo
Sensei Mike Healey hosted a highly enjoyable and informative Zen Judo training day with participants from his own club, Thatcham Zen Judo, Bognor Zen Judo and Kenshindoryu, summed up by one person as 'Good Judo, Good People, Good food!'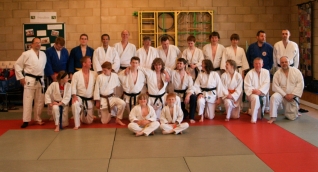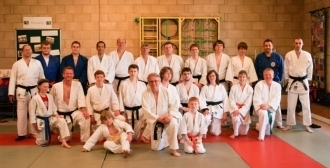 13th April 2013 - Hyodokan/KDR Training Day
10 of the Judo & Jujitsu members made the short journey to Pattishall to train with Sensei
Neil Malpas' Hyodokan/Dentokan club on their club day, with participants from a number
of other AJBF clubs. Sessions in Shorin Ryu karate, Kata application, Shinkendo, Aikijujutsu
and Newaza made for a hugely enjoyable (if tiring!) 6 hours of training, following which Sensei arranged for Pizza and Beer to aid recovery!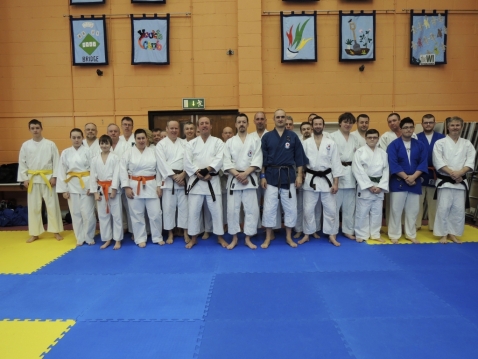 9th March 2013 - IGAS Course - Gosport
BKJJF hosted the first IGAS Course of the year, which included excellent informative session in Judo from Sensei Ian Llewellyn, Jujitsu with Sensei Mark Corby and Sensei John Brown, Shinkendo from Shibucho Byron Shepherd and Tuite from Sensei Jim Dart.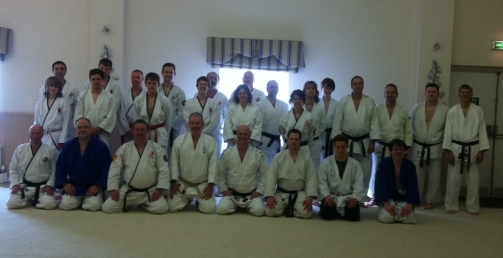 An excellent turnout for a first-class course.
18th November 2012 - Kata Bunkai & Shinkendo
Our final course of 2012 covered the applications to Pinan Sandan, Godan and Naihanchi, and was followed by a session on the shared principles and techniques of Wadoryu & Shinkendo.
A hugely informative and enjoyable session, many thanks to Senseis Byron Shepherd and Jordan Dunkley for the Shinkendo portion of the course.
You can see a demonstration of the Naihanchi bunkai here on our karate page
8th October 2012 - ISKK Course
Kenshindoryu Honbu hosted an International Seito Karate Kenyuakai
course on 8th October and, although attracting a disappointing number
of our own members, included excellent sessions from Sensei Malcolm
Bates 6th Dan on Seito Karate, Sensei Neil Malpas 5th Dan on Shorin
Ryu and Kobudo and Jim Dart 5th Dan on throws contained in Kata.
30th September IGAS Course MK
This year's Autumn IGAS seminar was hosted by Sensei Byron
Shepherd at the UK Aikibuken dojo in Milton Keynes and,
although numbers were lighter than usual, still attracted members
from 5 different associations for an excellent day covering Judo,
Aikibujutsu, Ju Jitsu and Aikido.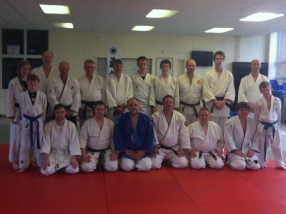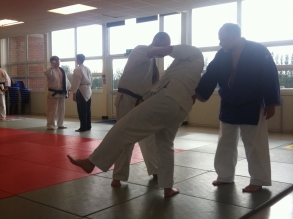 MMA/Grappling Competition Success
20+ year Kenshindoryu and KDR Yudansha Elite member Sensei Stuart Edwards

achieved Gold in the MMA division and Silver in the Grappling section of the 'Gods
of War' Tournament on 14th July 2012. Stuart trains regularly with Sensei Scott
Taylor (who taught on the recent KDR Summer Course) and holds 3rd Dan in KDR
Jujitsu Kempo, 2nd Dan in Wadoryu Karate and 1st Dan Judo.
Kenshin do Karate Wadokai Joins EWF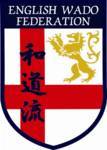 We are pleased to announce that the Kenshin do Karate Wadokai
has been accepted into membership of the English Wado Federation
providing our members with wider opportunities on courses and in
competitions, where we will be able to benefit from EKF licencing &
insurance.
2012 Summer Course
This year's Summer Course attracted a total of almost 40 attendees from 8 different associations, and with Shinohara Sensei heading up the list of instructors it was no surprise how popular places were. Particular thanks to Sensei Launders and his Shiro no Zen Judokwai members for their support.
A packed mat started with a KDR Jujitsu session from host Sensei Jim Dart and this was followed by Sensei Byron Shepherd with another superb demonstration of his skill in Shinkendo, teaching the Ippon Dachi pair work. After lunch, Sensei George Launders taught a hugely enjoyable Judo session in which Sensei Dart managed to crock Sensei Shepherd, and the day was concluded with the first of Mr Shinohara's karate sessions - apart from the evening barbecue, of course, which proved its usual hit with the course members!

Sunday saw a quieter mat, with those choosing not to make the second day missing a great groundwork session from Sensei Scott Taylor, ably assisted by his brother, Jamie, and Shinohara Sensei's second karate instalment. This was followed by Sensei Shepherd, overcoming his injury to teach one of the best Aikibujutsu sessions we have seen. The course was closed with some Combat Judo, in which the simple message 'don't forget to let go of the breakfall arm!' seemed to elude many of those remaining on the mat - notleast Sensei Dart!
Look at the course gallery here
2012 New Year Training
14 members were sufficiently revived after the New Year celebration to attend three hours of mixed training at the honbu dojo on 2nd January. With sessions from Sensei Jim Dart in Judo, Jujitsu, Shinkendo and Wadoryu, from Sensei Mike Gilbert-Hill in Aikido and from Sensei Andy Jones in competition karate all were treated to a light-hearted return to training after the festive break. As usual, thanks to Gail for providing refreshments and cake (which seemed to be the main reason people had come along) throughout the session.
Akemashite omedetou gozaimasu, Kotoshi mo yoroshiku onegaishimasu
Dan Gradings
2011 has seen one new Karate Dan grade and one dan grade promotion, as well as two new Judo Dan grades and one promotion. In the karate section, Helen Jones achieved Shodan in September following Sensei Dart's promotion to 5th Dan in August, while judoka James Dart (Jnr) and Matthew de la Harpe graded to Shodan in December, with Sensei Tom Williams gaining 4th Dan.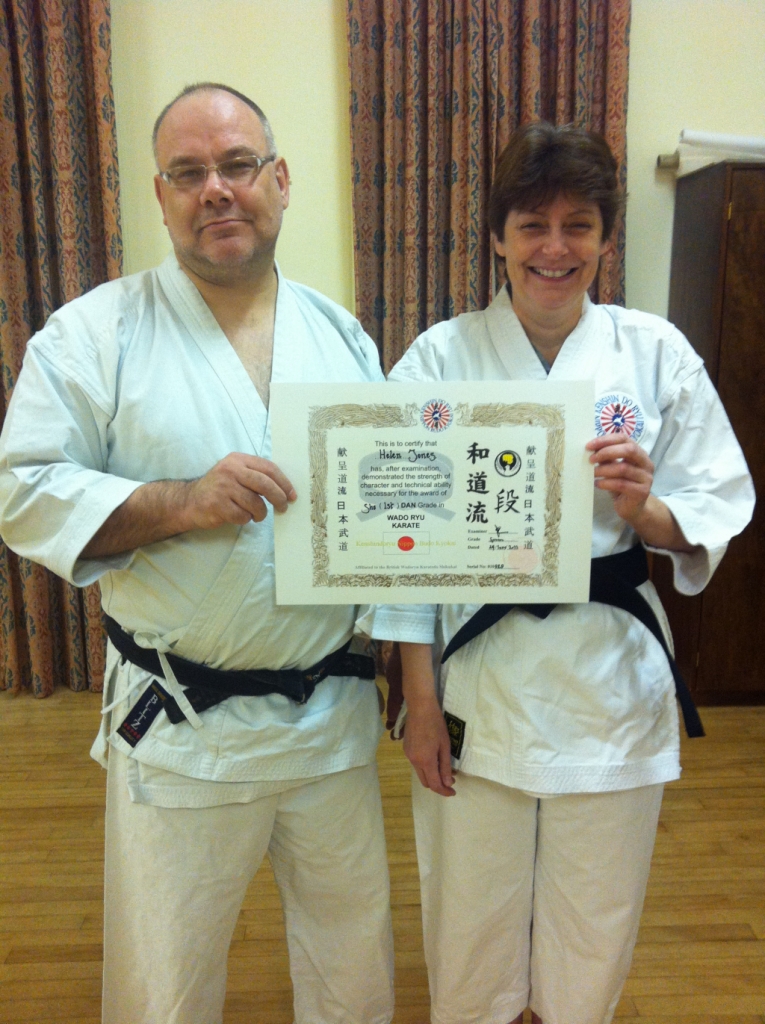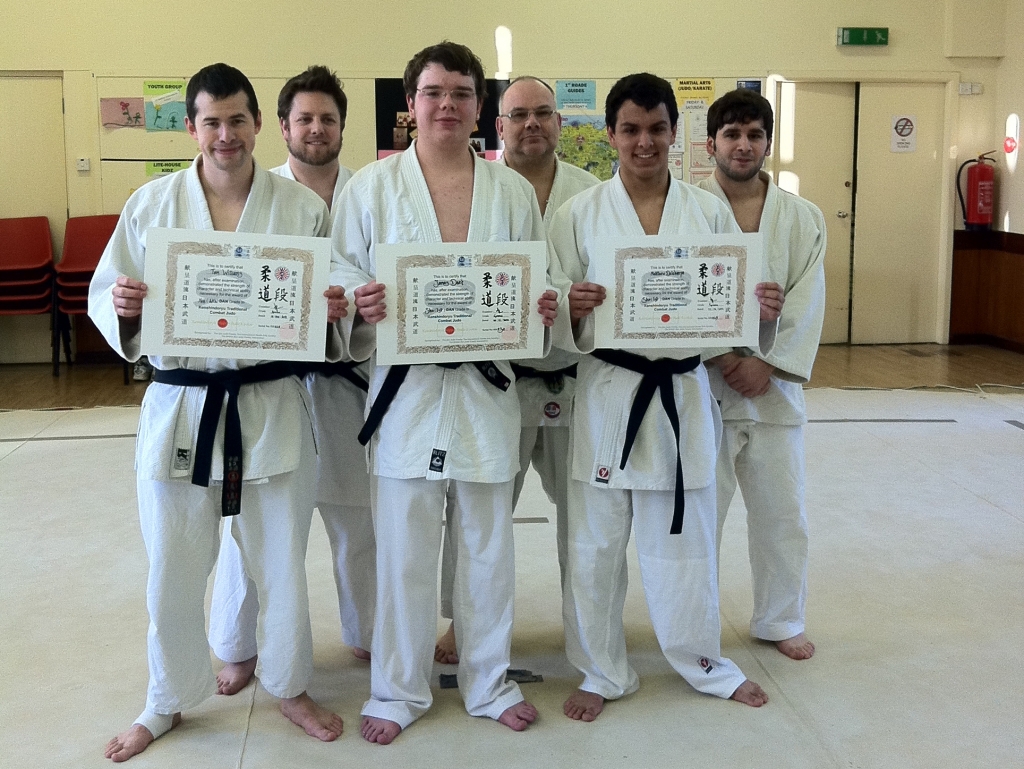 Helen Jones receives her Sensei Tom Williams, James Dart, Matt Delaharpe (Front)
certificate from Sensei Dart Senseis Dan Jones, Jim Dart and Bruno Rojas Fisher (rear)
Kenshindoryu hosts IGAS Seminar
IGAS Founder Member, Kenshindoryu proudly hosted the second International Gentle Arts Society one-day seminar on 24th September, which was attended by over 30 participants from six different independent Judo and/or Jujitsu organisations. Sessions from Sensei Jim Dart, GODO Jujitsu instructors Pat Lane Renshi and Roger Knowles Renshi and AJBF UK head of Judo Dr Llyr Jones were enthusiastically received, and all attending were looking forward to the next seminar in Bognor, hosted by the Zen Judo Family, in October.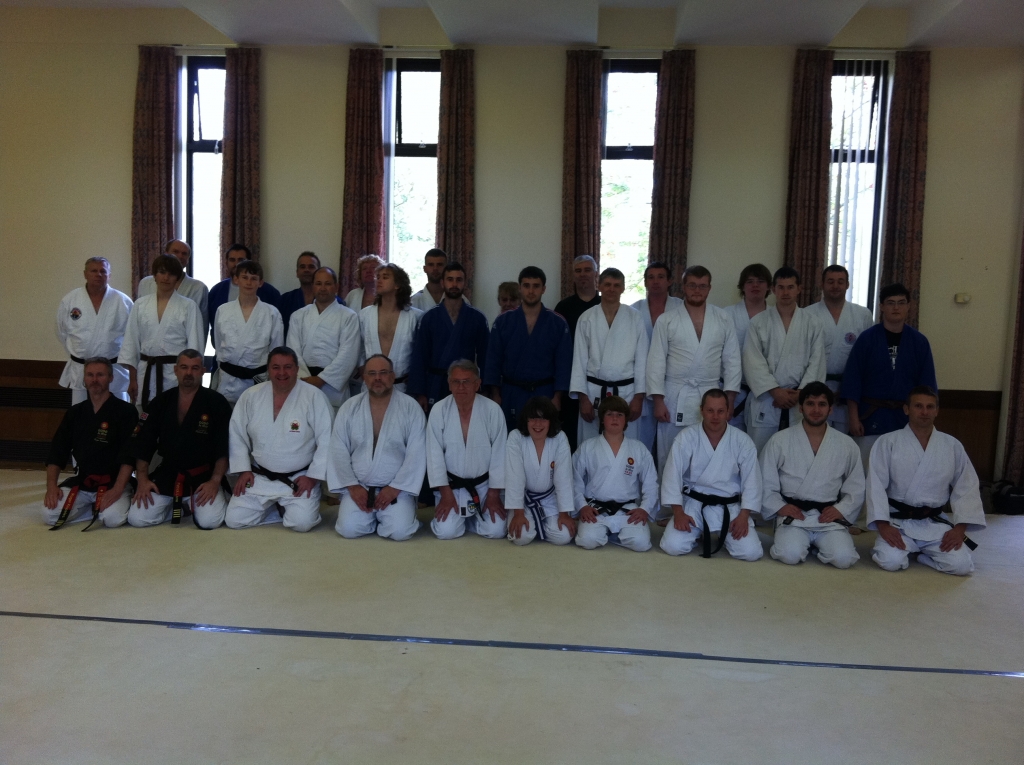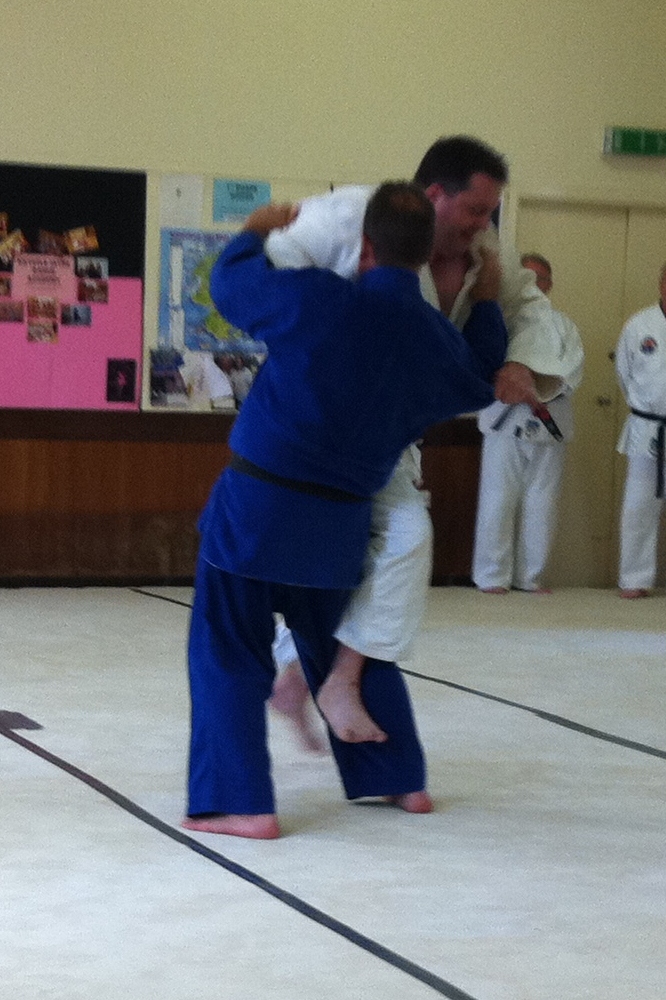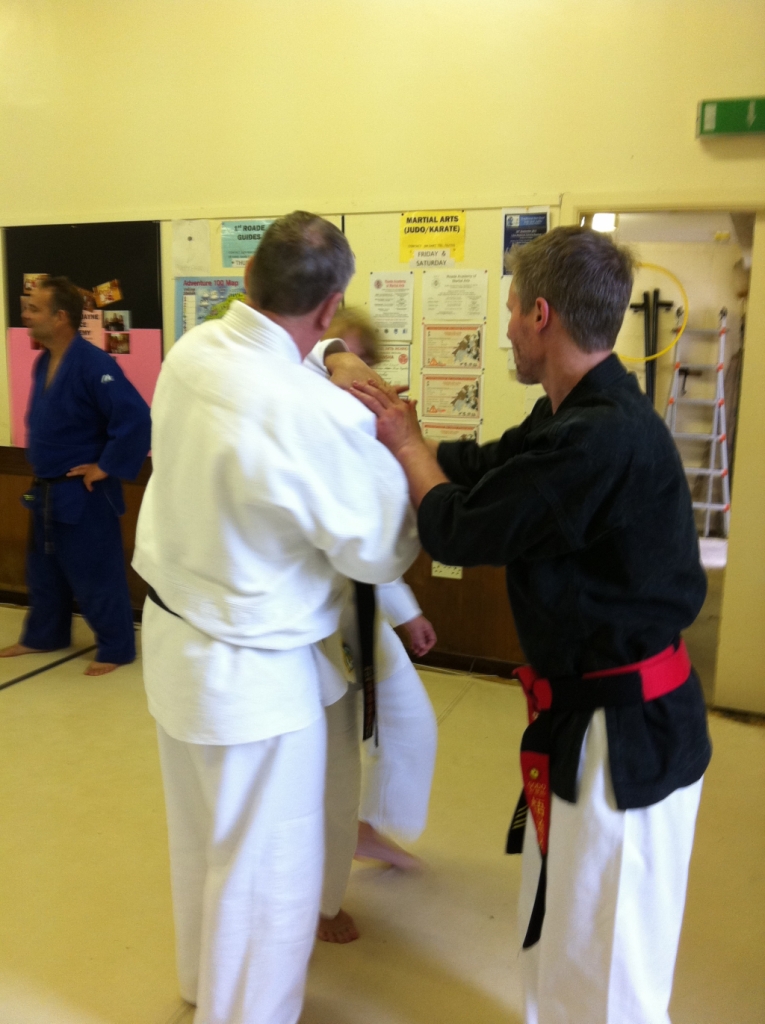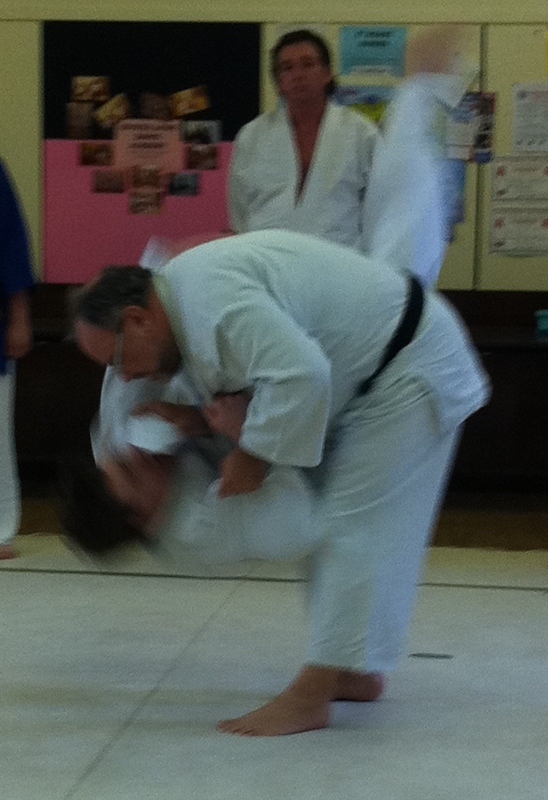 Sensei Dr Llyr Jones, 6th Dan Sensei Roger Knowles 4th Dan Sensei Jim Dart 5th Dan
demonstrates Osoto Gari with fine-tuning an arm-lock with demonstrates pressure-point
Sensei Joe Harbert, 6th Dan Shihan Gordon Lawson 7th Dan Combat Judo on Sensei Dan Jones
KDR Chief Instructor promoted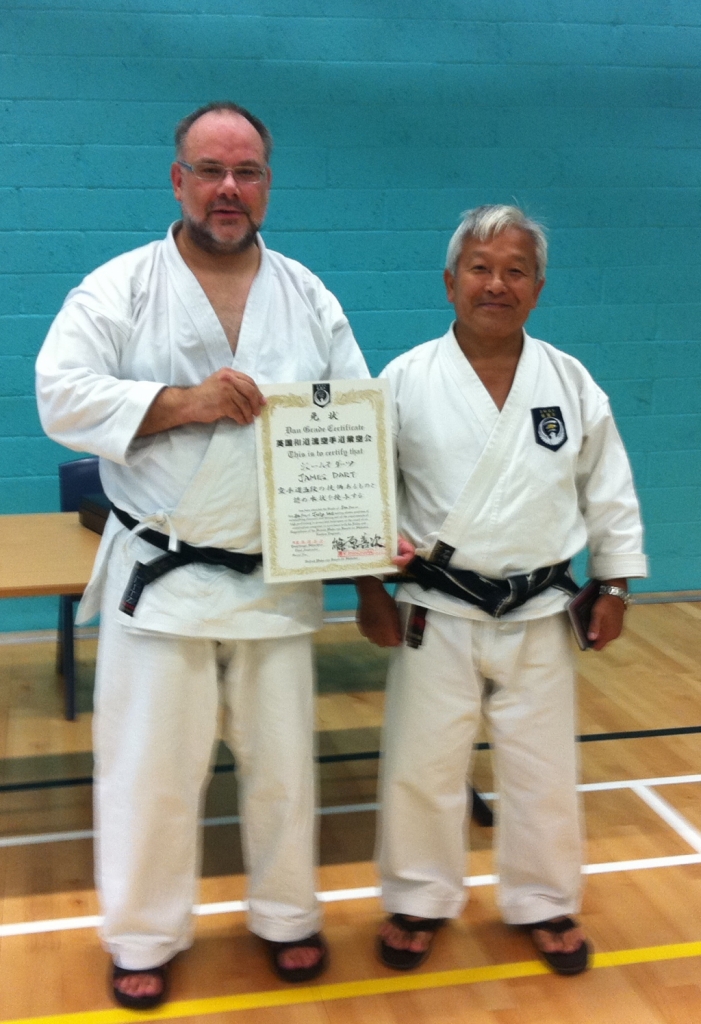 Kenshindoryu Chief Instructor, Jim Dart, was honoured to receive his 5th Dan Grade in Wadoryu Karate at the British Wadoryu Karatedo Shikukai Summer Course in London. Shinohara Sensei and a panel of BWKS senior Yudansha generously adjudged Sensei Dart's efforts satisfactory and awarded only the seventh 5th Dan grade in the BWKS' 36 year history.
Jim was supported on the day by KDR members Andrew & Helen Jones and James Dart (jnr). This brings the total number of dan grades earned by Sensei Dart to 30!*
*5th Dan Wadoryu Karate; 5th Dan Combat Judo; 5th Dan Jujitsu Kempo; 4th Dan ISTJ Judo; 4th Dan BZJFA Judo; 4th Dan Nihon-ryu Jujitsu; 3rd Dan ZJF Zen Judo
2011 Kenshindoryu Summer Course
Although the numbers at this year's course suffered slightly from the change to a date nearer the school holidays, the enjoyment of the participants and quality of instruction was as high as ever.
With guest instructors from the ISKK, MMA and Shinkendo/Aikibujutsu, there were sessions in Jujitsu, Aikibujutsu, Shotokan and Wadoryu Karate, Judo, Strategic Grappling, Kenjutsu and Shinkendo over the weekend, backed up with excellent catering during the course and Sensei's traditional Barbecue on the Saturday evening.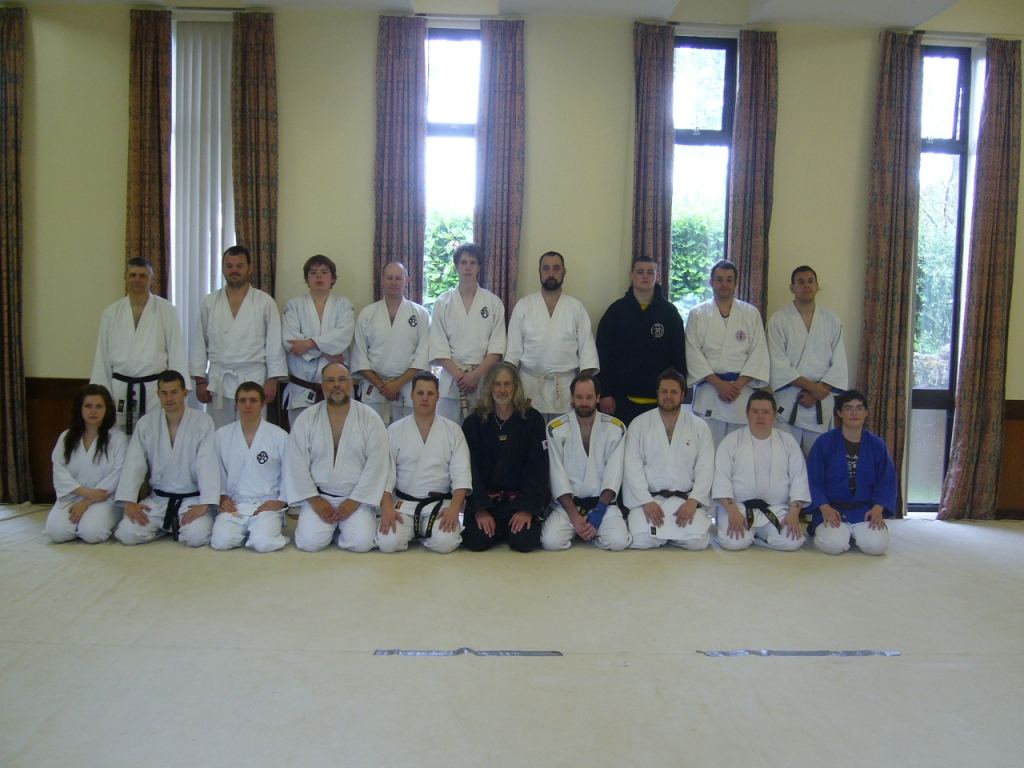 For more pics from the course, click here
June 2011 MK student Competition success
Congratulations once again to Sensei Andrew Jones' Milton Keynes club as his son, Paul (blue), takes a silver medal in the BWKS mid-year junior competition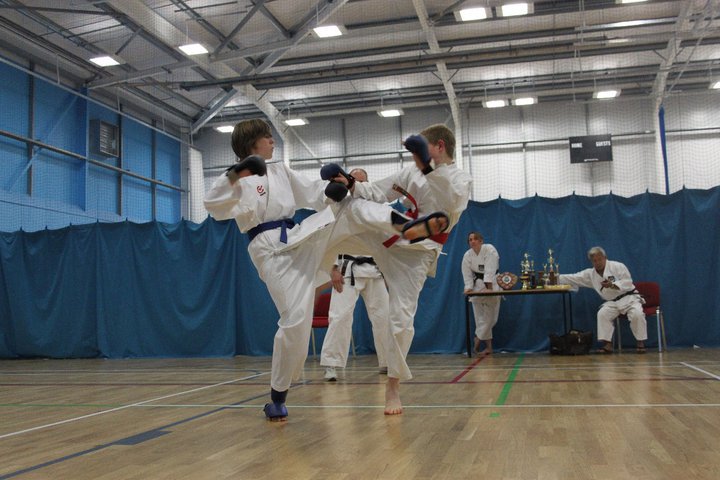 Honbu Spring Grading - March 2011
The weekend of 25/26th March saw the Honbu Spring Grading take place across all three of our core arts, with 10 candidates achieving promotion to their next grades.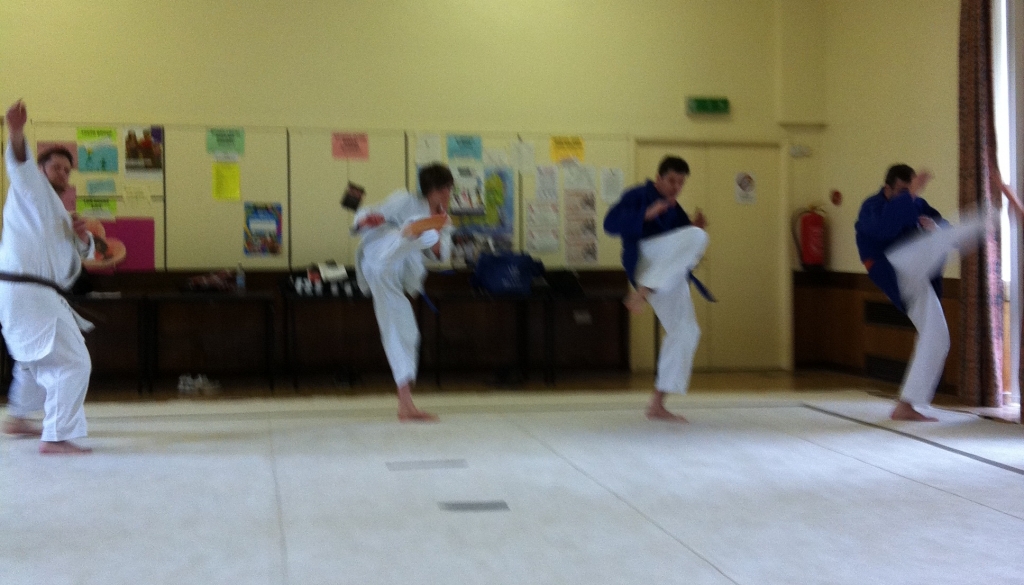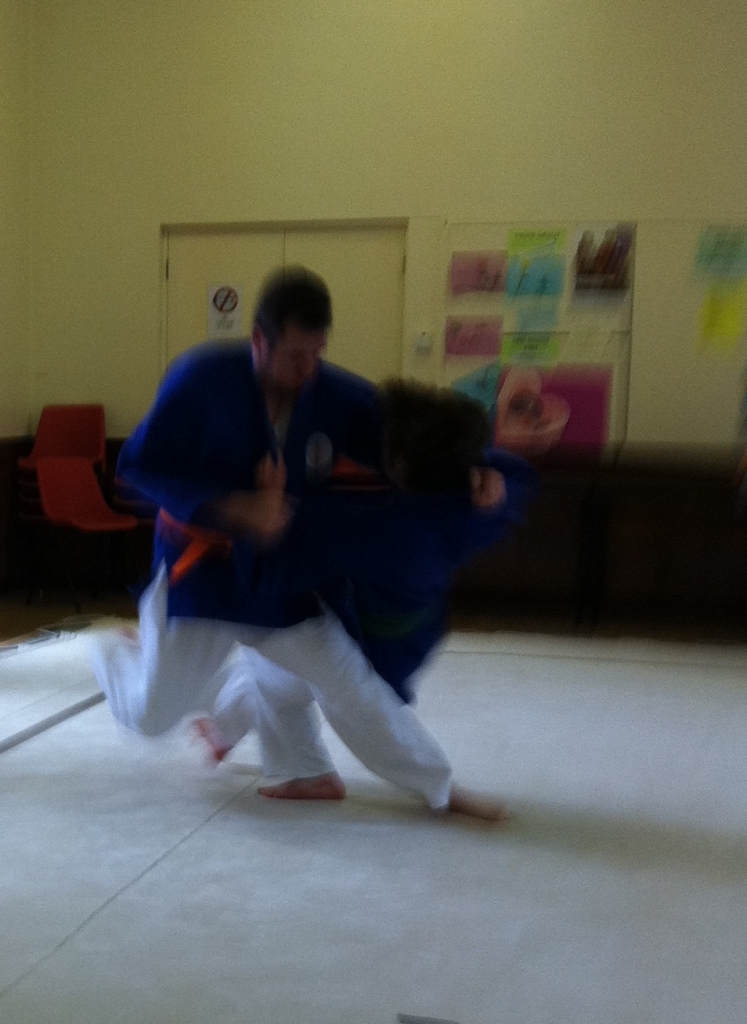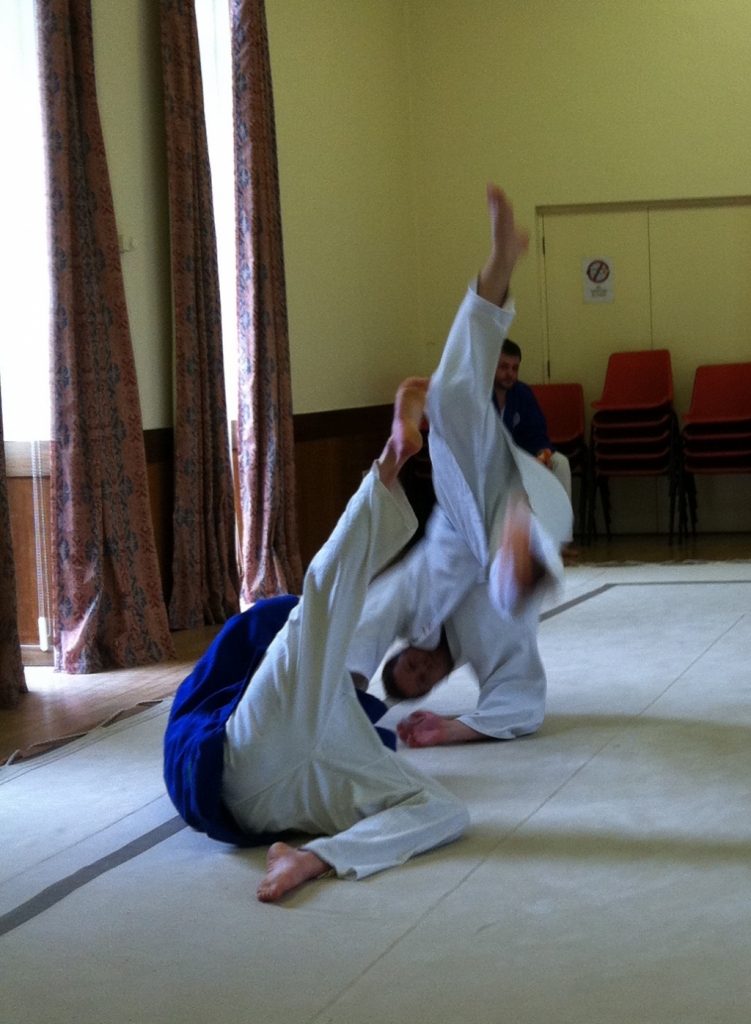 Welcome to 2011 - New Year's Day Training
12 participants were sufficiently recovered from their New Year's Eve celebrations to come along to the New Year's Day training at the Honbu, in which short 'taster' sessions of all of our arts were given to existing and prospective members. We were honoured to be joined by Sensei Byron Shepherd on the mat, who took sessions in Aikibujutsu and Shinkendo to complement the Judo, Jujitsu and Karate sessions from Sensei Dart. Additional thanks to Gail who provided (much- needed!) carbs and liquids in the form of pasties, cakes, tea, coffee and soft drinks.
Honbu Judo visit Zen Judo Thatcham - Nov 2010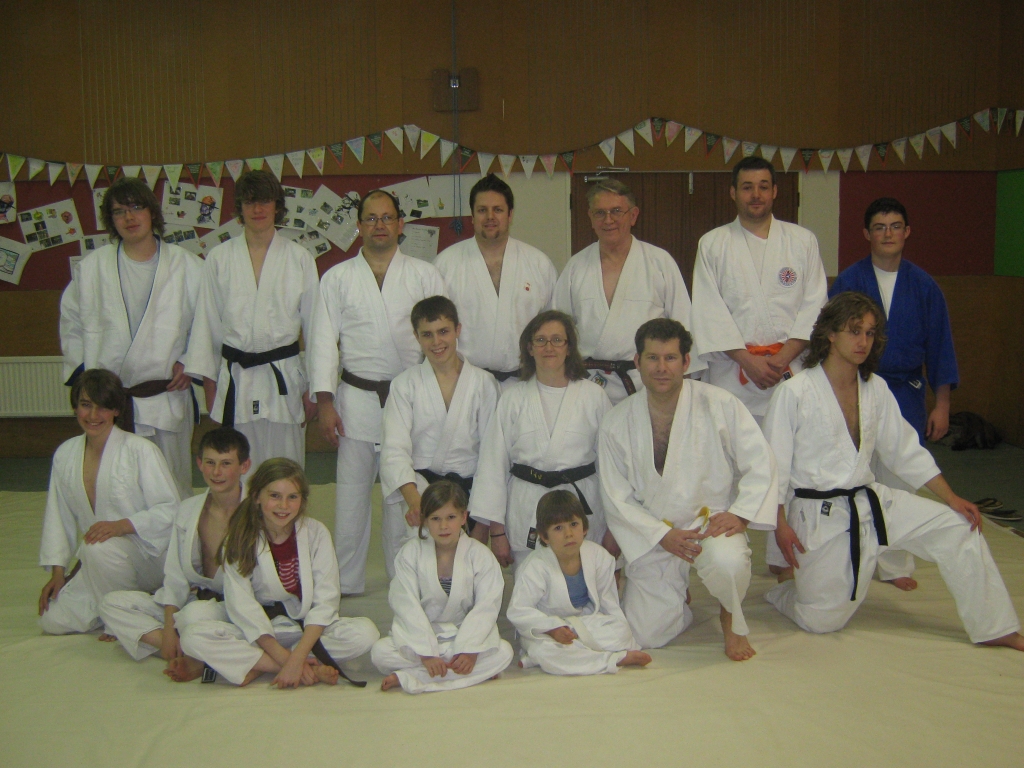 On 28th November, 6 members from the Honbu Judo section including Sensei Jim Dart, visited old (and new) friends at Thatcham Zen Judo Club.
Sensei Caroline Gourlay, 4th Dan was joined by Sensei Mike Healey, 5th Dan for the day in which two of the Zen members had gained their 1st Dan grade (congratulations!). Sensei Mike was one of Jim's first Judo instructors and everyone appreciated his knowledgable and humorous approach
Also along was long-time member of the Kenshindoryu, Brian Mace, who has recently started training with Caroline.
Kata Success for Milton Keynes - Nov 2010
Congratulations once again to Sensei Andrew Jones (pictured on the right)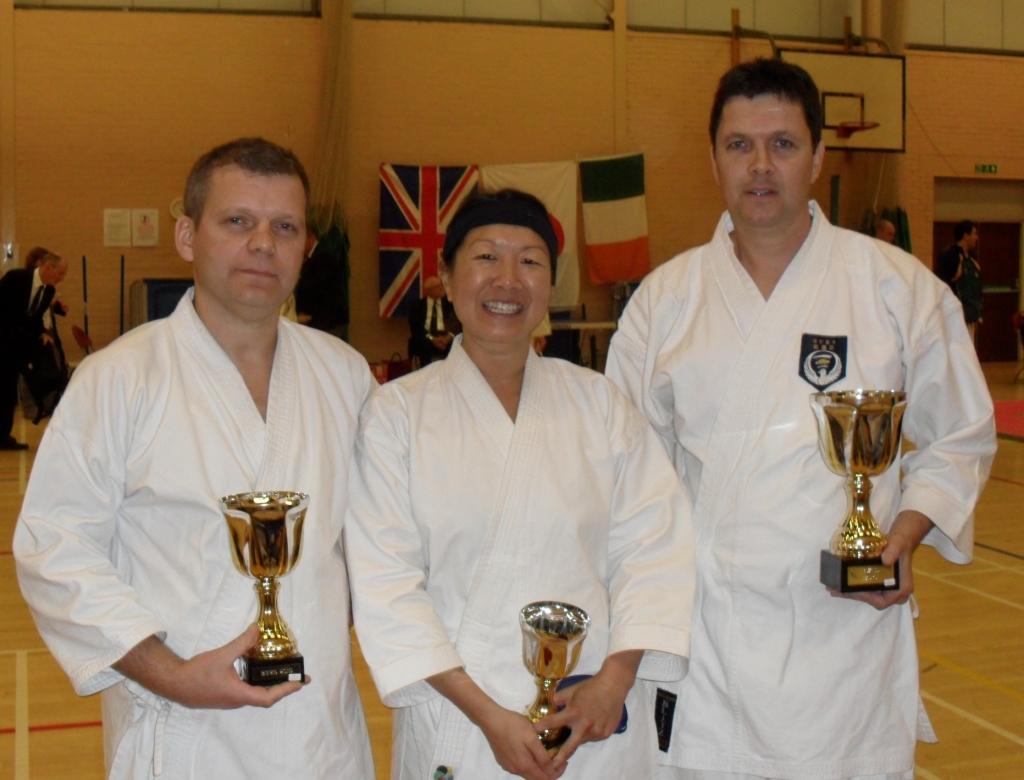 (3rd Dan) who continued a successful year on 7th November at the BWKS National Championships by taking Gold in the Masters Kata and Silver in the Senior Open Kata.
Honbu Summer Course - June 2010
The summer course, held over the weekend of 26th/27th June attracted thirty participants from Kenshindoryu, BWKS, Zen Judo and Shinkendo. The course was 'headlined' by Shinohara Shihan, 8th Dan, who led off with an informative session on the Wado Tanto Dori. This was followed up by afternoon sessions in Shinkendo with Sensei Byron Shepherd, Jujitsu with Sensei Jim Dart, Ian Cowley with an excellent restraint and control session and Sensei Stuart Edwards showing some MMA takedown and groundfighting techniques.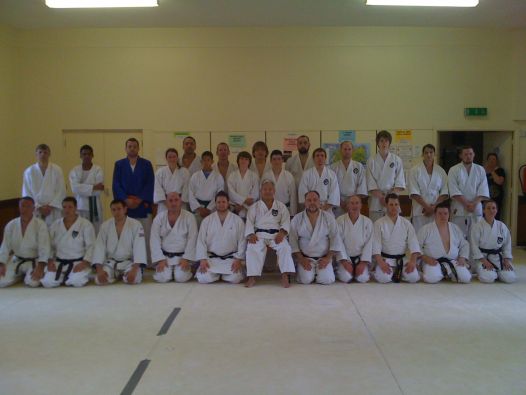 After a relaxing barbecue at Sensei Jim's home, Sunday was taken up with some of the pressure-point 'enhanced' throws of Combat Judo, and applications to the Wadoryu kata, Chinto from Sensei Dart, the course was rounded off with two hours of Aikibujutsu from Sensei Shepherd, before the traditional 'randori' session to finish. You can see more photos from the course here
===================================================
Great Result for Milton Keynes - June 2010
Once again Sensei Andrew Jones took members from the Milton Keynes club to compete with BWKS members at Mr Shinohara's dojo. Congratulations are due to Eli Reid and Justin Thornhill, taking Silver and Bronze in their division, with Andrew scoring Silvers in both Kata and Kumite.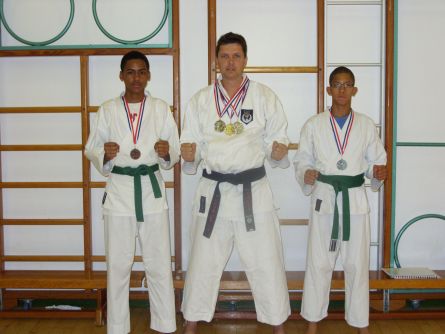 ===================================================
Demonstration - June 2010
Sensei Dart joined students from the honbu dojo at a fundraising demonstration for the local church on 12th June. A good day was had by all participants, with a good crowd staying to watch the three sessions, covering Karate, Judo/Jujitsu and Shinkendo.
==================================================
Obata Kaiso Shinkendo Course - May 2010
UK Shibucho, Byron Shepherd hosted the first visit to England of Shinkendo founder Toshishiro Obata Kaiso, which was attended by students from all over Europe. Kenshindoryu members Guy Miller, Michael Reilly and Chief Instructor, Jim Dart joined students from France, Germany and further afield in three days of top-class instruction and demonstration from Obata Sensei, whose flawless skills and seemingly limitless stamina and enthusiasm were inspirational to behold.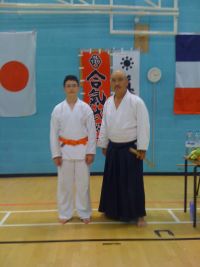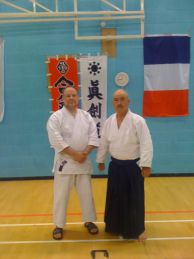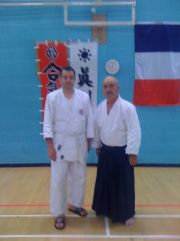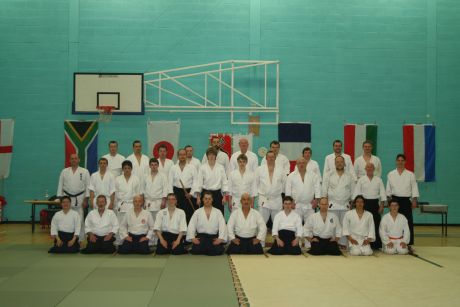 For more details about Shinkendo and Aikibujtsu in the UK see www.shinkendo.org.uk
*******************************************************************
Competition Success for Milton Keynes
Congratulations to Sensei Andrew Jones and his student, Paul in coming first and third respectively in the BWKS Spring Shield match, held in April at Shinohara Sensei's Leyton dojo.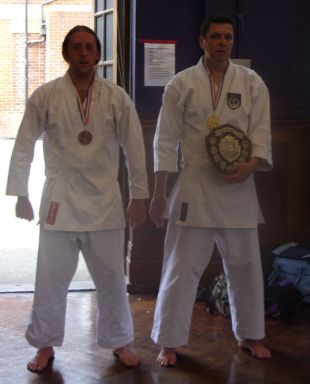 Andrew now holds the shield until the next shield match in the summer.
*******************************************************************
Karate Grading 4th October 2009
This Sunday evening saw 12 candidates gather at Sensei Andrew Jones' dojo to undertake their next grading assessment. Nerves were much in evidence, as usual, but Sensei Dart did his best to relax everyone in the pre-grading lesson.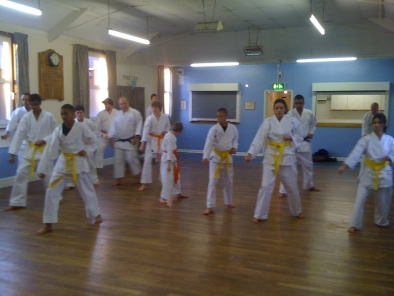 A range of grades, from 7th kyu to 4th kyu, were being examined and members put their best feet forward to demonstrate the progress they have made, all candidates being judged successful at the end of the two hour session.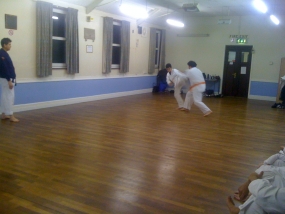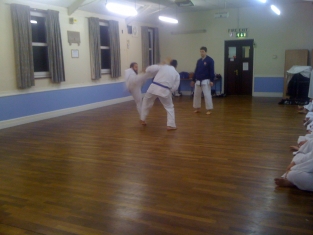 Action from the fighting for 6th Kyu and 4th Kyu
Congratulations to all participants and many thanks to Sensei Jones for hosting the event.
******************************************************************
Visit by Sensei Stuart Edwards 25th July 2009
On 25th July we were delighted and honoured to host a visit by one of Sensei Dart's longest -serving students, Sensei Stuart Edwards, 2nd Dan Wadoryu, 2nd Dan Jujitsu, 1st Dan Traditional Judo.
Stuart is a serving Police officer and has previously been BIKMA British Open Middleweight Jujitsu champion and South of England Open Grappling Champion, so the Jujitsu class was looking forward to his session on groundwork and take-downs with anticipation.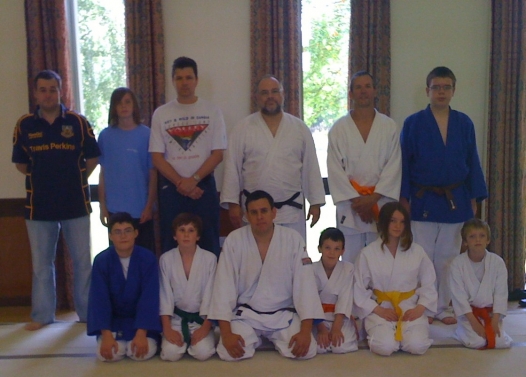 They weren't disappointed and Stuart demonstrated his customary skill, humour and experience as he taught drills that the class members would be able to practice in the future, then provided some legal guidance on use of force and some pointers on warning and danger signs to pick up on with 'real' opponents.
The afternoon ended with a barbecue back at Sensei's home which gave the club members time to unwind and chat with Stuart, as well as providing a good end of term get-together before the Honbu Summer break.
*******************************************************************
Competition 27th June 2009
This Saturday saw the first competition run by Kenshindoryu for a number of years, as we don't specifically train for contest. With an enthusiastic bunch of entrants from all clubs, members entered into the spirit of the day by having a go in the contests of our three arts, whether they trained in them or not!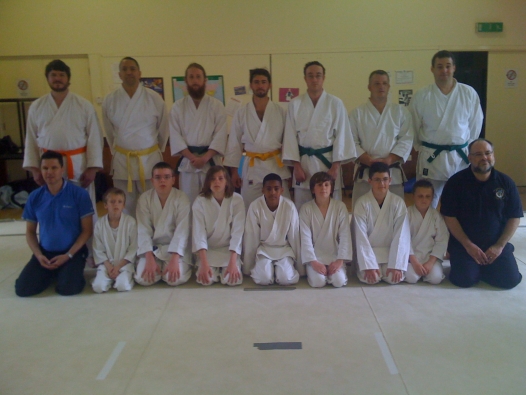 Competitors
The competitors showed excellent spirit throughout the day, helping, cheering and coaching each other through the 'round-robin' format of each division - sustained by refreshments provided by some of the parents - with all participants receiving a medal to evidence their courage and commitment.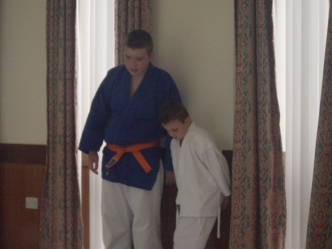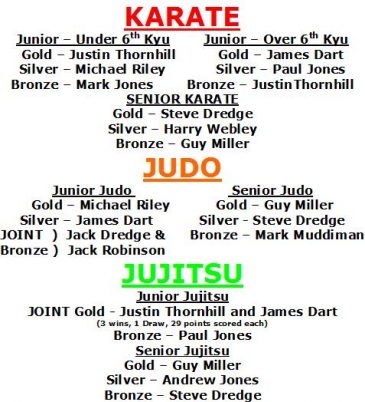 Words of wisdom from the Sokedai
*************************************************************************************************